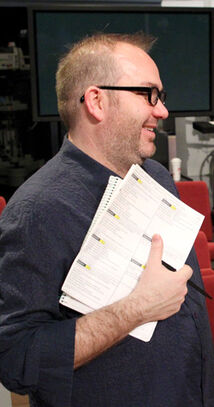 Brian Piotrowicz
is a
Co-Producer
of
The Oprah Winfrey Show
where he works with a team of producers brainstorming show ideas and working with guests. Brian also travels extensively to shoot footage for many of the shows he is producing. In the seven years that Brian has been with
The Oprah Winfrey Show
, one of his most memorable experiences was traveling across the country for 11 days with Oprah Winfrey and Gayle King as part of the team that produced "Oprah and Gayle's Big Adventure" road trip series.
Brian graduated from the S.I. Newhouse School of Public Communications at Syracuse University in 1992. He began his television career in New York City as the audience coordinator for The Sally Jesse Raphael Show, and went on to work as a producer on various television pilots. Brian was a supervising producer on The Jenny Jones Show and was part of the team of producers that launched the syndicated talk show, The Sharon Osborne Show.
Ad blocker interference detected!
Wikia is a free-to-use site that makes money from advertising. We have a modified experience for viewers using ad blockers

Wikia is not accessible if you've made further modifications. Remove the custom ad blocker rule(s) and the page will load as expected.