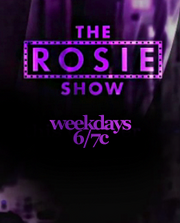 The Rosie Show
is an evening television talk show hosted and produced by actress and comedienne Rosie O'Donnell. The show covers current events, highlights hometown heroes and newsmakers, showcases art, offers discussions of important issues and celebrates children. The daily show also features comedy and game segments (a staple of her first talk show) as well as celebrity guests and performances by recording artists, both well-known and up-and-coming performers. The first episode premiered on October 10, 2011.
Season 1 (2011-2012)
Season One of The Rosie Show debuted on OWN (Oprah Winfrey Network) on Monday October 10, 2011 at 7:00 p.m. ET. The show leads into Oprah's Lifeclass and the pair was considered a reboot for the struggling network to increase viewership during its fall launch of shows.It was announced on September 29, 2011 that Russell Brand would be the show's first guest.
Show Opening
Each show opens with Rosie emerging from behind a set of red stage curtains and walking to the front of the stage to welcome her audience. During the first segment, she combines a free-flow of stand-up comedy, questions from the audience, and a recap of the daily news headlines. Rosie often also uses this time to chat with the leader of her house band, Katreese Barnes, similar to how she would open her old show with a conversation with John McDaniel.
Music
The Rosie Show infuses music into every episode- whether it be performances by musical guests, Rosie's spontaneous musical numbers (sometimes accompanied by her "Broadway Boys"), or the soundtrack provided by her house band, led by Katreese Barnes, (a former Saturday Night Live musical director). Sometimes special musical guests will sit in and accompany the band.
Game Show Segments
Each show closes with a game show segment, where audience members face off against each other to win a prize. Game show segments have included: The Ro Game, Build That Tune, and Odd Man Out. At the end of the game, the loser is forced to take the "Walk of Shame", while the winner is showered with confetti and awarded their prize.
Games Played (So Far)
the Ro Game
Build that Tune
Odd Man Out
Doodlez
Namez-a-Poppin'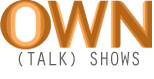 This is an article about a (Talk) Shows on OWN. Here you find the basic info about the host(s) and the show. Feel free to add images, additional information is fine but not needed.